Mogana Kikaijima (喜界島 もがな, Kikaijima Mogana) is a freshman and later junior of Class 11. She is a member of the Swimming Club, and is later hired as the treasurer for Medaka Kurokami's Student Council.
Personality
Like her fellow members of the Swimming Club, Umumichi Yakushima and Sotsu Tanegashima, Kikaijima is obsessed with money, and is willing to go so far as to risk her own life to get a hold of it. This attitude stems from her childhood: when Kikaijima was a child, her father left because the family was in debt, her mother became sick from working herself in to the ground, and all the people that Kikaijima had thought were her friends left her because her family had no money. Though she considers money more important than her friends, she likes her friends more than money. After Medaka's intervention, Kikaijima is more aware of her own worth, though she is still obsessed with money (she is paid 300 yen a day as the Student Council's Treasurer). After being encouraged by Yakushima and Tanegashima to make friends outside of the Swimming Club, Kikaijima has developed strong relationships with the other Student Council members, particularly Medaka and Zenkichi Hitoyoshi.
Appearance
Kikaijima has long brown hair done up in a ponytail with a blue ribbon, and wears glasses over her purple eyes. She initially wore the standard women's uniform of Hakoniwa Academy, though after joining the Student Council, she changes to the Student Council uniform, black as opposed to the usual white. The green armband signifying her as the Treasurer is worn around her left arm. During the battle to decide the academy's new Student Council, Kikaijima wears the Student Council's Battle Attire Red Model. Kikaijima gives up her armband after leaving the Student Council. Kikaijima often wears her swimsuit beneath her uniform. Ten years later, Kikaijima cuts her hair short, and wears a dark-colored coat over a light-colored dress.
History
Because they didn't have any money, Kikaijima's father ran out on her and her mother. Her mother worked herself into the ground and eventually became sick.[1] Despite having no money and being in trouble, no one tried to help Kikaijima; in fact, all the people she thought were her friends left her.[2]
Plot
Student Council Executive Arc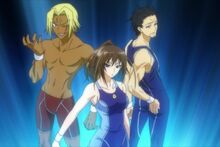 Kikaijima is present at Medaka's inauguration ceremony.[3] Kikaijima and the other members of the Swimming Club are first introduced discussing the upcoming club battle swim meet. Kikaijima insists that they will get money if they win, so there is nothing to complain about. As a group, they decide that when they win, they will be one step closer to reaching their dream of filling a pool with money.[4] Come Sunday, all three are seen looking pleased when Medaka announces that any club that ranks higher than the Student Council will receive money from her own pocket. Kikaijima asks the others what they should do after Medaka announces that the first event will be water basketball.[5]
After the first event ends, the Swimming Club is seen on the sidelines. Medaka points out that they were actually the first group to score all twenty points. Other onlookers discuss the Swimming Club, one claiming he saw the guys swim to the pool's bottom, even with floaters on their arms. Medaka confronts the club, identifying the technique they used as compulsed expiry diving: if they had made a single mistake, they could have drowned. She asks them if they value their lives, a question Tanegashima answers on the rest of the club's behalf: they value money more than their lives.[6]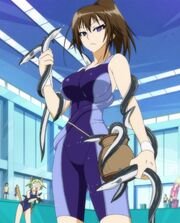 When Nekomi Nabeshima tells Medaka that she doesn't understand Yakushima, Kikaijima approaches them from behind and tells the pair that she never expected them to understand what the Swimming Club are thinking. She does tell Medeka and Nabeshima what the Swimming Club wants is a pool full of money: their dream is to spend a full day swimming in it.[7] In the third event, eel catching, Kikaijima manages to capture thirteen eels, maintaining the Swimming Club's position in first place.[8] After the third event, the Swimming Club confronts the Student Council.[9] After Medaka claims that she will reform the Swimming Club, Tanegashima haughtily dares her to go ahead and try.[10]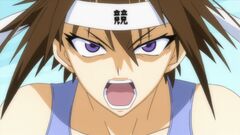 As the fourth event starts, the cavalry battle, Kikaijima is seen as the Swimming Club's lancer.[11] After hearing Yakushima's explanation of the final event, Kikaijima declares that they have no reason to face the Student Council head on, and suggests instead that they take the headband of seventh place, thus gaining an extra point on their lead. After Medaka challenges the Swimming Club, promising that she will teach them that there is something more important than money; Kikaijima loses her temper, and tells the other two she will take that "stupid girl" down. When Asa signals for the event to begin, Kikaijima and Medaka immediately lock hands. After Medaka claims that she likes the Swimming Club, Kikaijima angrily reminds her that she called them money zombies. Medaka retorts that they are being lured by the strong pull of money, at which point Kikaijima tells her to shut up. She tells Medaka about the horrid pasts of her and her teammates, and goes on to say that she would gladly give up her life for money: anyone would be sad if they were to lose their wallet or purse, but no one would care if they died.
With a sudden burst of strength, Kikaijima manages to push Medaka off balance. She is shocked to see however, that Medaka is standing on Zenkichi's discarded float. Medaka and chastises Kikaijima, telling her that even if their luck hits the depths of hell, that is still no reason to throw their lives away. Medaka goes on to say they have just earned something very expensive: her wrath. Medaka leaps at her, knocking her off balance, and after telling Kikaijima that she would be sad if they died, kisses her on the lips to prove it. They both fall into the water. Medaka carries Kikaijima out of the pool and hands her over to Yakushima. Kikaijma as her teammates which is more important, her or money. After they both answer money, she then asks which they like more, her or money. They both tell her they like her more, at which she tearfully tells them that she likes them more than money to. She is shocked with everyone else when Nabeshima and the Judo Club are revealed to have won the competition, and thinks that Nabeshima was surprisingly cool about being cheap.[12] Kikaijima is later seen at the Student Council room as the new treasurer, being rented out from the Swimming Club for $3.00 a day. She tells Zenkichi and Kouki Akune that if they waste money, they will feel her wrath.[13]
Kikaijima changes in the Student Council room, only for Zenkichi to walk in and see her in her underwear.[14] After beating up Zenkichi, she demands he pay her for the show, as he saw her near naked. After he tells her he saw something he didn't want to see, she starts crying, and angrily cries that he pay her while calling him a meanie, now telling him to pay for the mean things he said as well. Zenkichi relents, and he pays her $4.50 for the peep show, and $3.00 for being mean. Paid, Kikaijima's mood instantly improves. She asks Zenkichi where the computer is, to which he replies that they don't have one and hands her an abacus, much to Kikaijima's surprise. After Zenkichi explains Medaka's mental talents, Kikaijima questions whether Medaka has intel inside. She then claims that it is a waste to buy something that isn't needed, and that an abacus is also pretty useful. Kikaijima begins working while Zenkichi starts reading manga. She thinks to herself that it has gotten really quiet, and that it was a bad idea to show how serious she was by working. She thinks on how Zenkichi is reading manga, and it doesn't look like he is interested in her at all. She worries that she will lose face to Yakushima and Tanegashima, and resolves to make friends. Flustered, she then comments to Zenkichi that they have nice weather today. After he points out that it is raining, the atmosphere becomes even more tense, with Kikaijima thinking that she read in a book somewhere that you can strike up a conversation with just about anyone when you talk about the weather. She wonders if Zenkichi hates her or something. When Zenkichi tells her that she has a great body, a horrified Kikaijima throws her abacus at his head, and charges him $0.50 for sexual harassment; bringing the total amount of money she has taken from him $8.00. Kikaijima thinks to herself that Zenkichi must hate her now, and that she wants to apologize for getting violent and give him his money back. She silently begs for somebody to help out, not caring who. Hansode Shiranui barges into the Student Council room, telling Zenkichi she felt as if he was calling for her, and asking if he has something good for her to eat. A horrified Zenkichi and Kikaijima both think that the number one person who can't take a hint just came.
As Shiranui introduces herself, Kikaijima thinks to herself that the other girl is a mystery: during the swim meet, it was like she was pulling the strings behind the scenes, and wonders how she can enter the Student Council room when she is not a member. Shiranui then offers Kikaijima a photo of her kiss with Medaka, breaking the forth wall to mention that it took up a whole panel the week prior, much to Kikaijima's dismay. As Kikaijima ties to take it, Shiranui offers it her, explaining that she actually took it for the school newspaper, but if Kikaijima asks, Shiranui will give it to her. She then maliciously reveals that she took three hundred photos, all from different angles, and asks Kikaijima which one she would like. Zenkichi asks her to stop however, and Shiranui agrees, leaving with an empty apology to Kikaijima and a farewell to Zenkichi. Gathering up the photos, Kikaijima thanks Zenkichi for helping her out. She asks him what Shiranui is really like, and is shocked when he tells her he doesn't really know. Kikaijima asks him if it is alright to be that easy going about, Zenkichi replies in the affirmative, telling her that Shiranui is his friend, and that he doesn't need to know any more than that. Kikaijima then asks about Medaka, wanting to know if she does that (kissing) with everyone. After Zenkichi describes Medaka, Kikaijima asks how she Medaka can claim she was born for others, as that line of thinking is incomprehensible to Kikaijima herself. She goes on to say that when she ran out of money, all the people who she thought were her friends left her; she doesn't hate or blame anyone because she thought that was how the word worked: a give and take world. She claims that if anyone starts to like her, they won't get anything in return. Zenkichi asks if she can say the same thing to the other members of the Swimming Club, to which Kikaijima replies that those two are different, as the three of them are like family. Zenkichi tells her that Medaka is the same way, only she sees all of humanity as her family, and that she likes Kikaijima so much, she doesn't know what to do about it. Kikaijima remembers pacing outside the suggestion box, when Medaka approaches her from behind and asks her what she is doing. While Kikaijima tries to answer, Medaka tells her that she was looking for her anyway: after knocking her into the pool, Medaka couldn't get her mind off of Kikaijima, and claims that she has fallen for her. Medaka then tells Kikaijima that the Student Council needs a Treasurer, and asks her to help out. Kikaijima remembers that that was the first time she was asked to help someone. Kikaijima suddenly realizes that she has been having a normal conversation with Zenkichi, and that this is her chance to make a new friend. She worries that if she starts thinking about it, she might fail again, when she decides to do the same thing Medaka did. She then interrupts the still talking Zenkichi, claiming that she has fallen for him, and is going to kiss him. Medaka and Akune later find her on top of Zenkichi in the Student Council room, with Zenkichi trying to force her off of him.[15]
Kikaijima is spotted walking with the rest of the Student Council by Harigane Onigase of the Public Morals Committee, who confronts the Student Council in their office. After Onigase calls out Zenkichi and Akune on their uniforms, she turns to Kikaijima. While Kikaijima initially denies having made an alterations to her uniform, Onigase successfully reveals that she has been wearing her swimsuit beneath her uniform, to which an embarrassed Kikaijima can only try to claim she was testing Onigase. She asks the other girl whether it would be alright for her to wear only her swimsuit, a suggestion Onigase immediately shoots down. When Medaka claims that she has never been embarrassed about her splendid body, the other members of the Student Council are at a loss for words. When Medaka finally declares that she just doesn't want to change her clothing, the other members of the Student Council are appalled. After Onigase leaves, Kikaijima sets about cleaning up the office.[16]
While Medaka visits the music room, Kikaijima is busy putting up fliers.[17] She is unaware as Rankaku Yoshinogari sneaks up behind her, weapons drawn.[18][19] Kikaijima remains oblivious to Yoshinogari, but is pleased that her work was well done. She notices something amiss when Medaka clothelines Yoshinogari, but turns around to find the hallway empty.[20]
In the Student Council office, Kikaijima and the others listen to Medaka's explanation of Myouri Unzen's weapon: the super ball. Kikaijima is skeptical, but is quickly convinced after seeing the super ball in action. When Unzen shows up at the office, Kikaijima is unimpressed, stating that his actions are not cute at all.[21] As she listens to Unzen speak, Kikaijima looks grim.[22] When Medaka cries out that the super balls he dropped earlier were actually filled with gunpowder, Kikaijima is stunned. She worriedly tries to convince Unzen that if he detonates his bombs, he will be caught in the explosion as well, though her words have no effect.[23] When the smoke clears, Kikaijima and the other members of the Student Council are revealed to be fine. Unzen realizes that Medaka, in the short time she had, threw water on some of the bombs, kicked some out the window, and then sheltered her fellow members in lockers.[24] As Medaka enters War God Mode Kikaijima and the others can only watch. As Akune and Zenkichi discuss War God Mode, Kikaijima listens without saying anything.[25]
Kikaijima watches as Medaka attacks Unzen.[26] When Medaka sends Unzen flying into the Student Council office, Kikaijima and the others are shocked.[27] Zenkichi explains to Kikaijima that Medaka is angry; that if you take away the personality, all that is left is a rampaging beast. He then tells her and Akune that if they want to leave the Student Council, now is the time, surprising them both.[28] As Medaka moves to make her last attack on Unzen, Kikaijima and the rest of the Student Council grab on to her, stopping her before she can finish. She tells them to let go of her if they don't want to get dragged into her problems, but they all refuse. All three are shocked when Medaka asks Unzen to become her Vice-President. Both she and Akune are amazed when Medaka speaks so easily about the extent of her injuries.[29] Together, the Student Council walks off into the sunset.[30]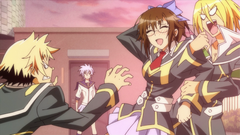 In the (temporary) Student Council office, Kikaijima and the others work to manage the academy in without the hospitalized Medaka. All three enjoy the quiet, though Kikaijima and Akune soon become distressed by Medaka's absence. At Kikaijima's urging, Zenkichi checks the suggestion box, only to find Sasae Mochibaru outside the door. Mochibaru leads them to the Shogi Club, and asks them to help her find a missing piece of a shogi set – the king. Zenkichi and Akune are notably put out by the messy state of the club room, though Kikaijima is more interested in the shogi pieces – a boxwood set – and their monetary value. The three change in to more appropriate clothing, and set about cleaning up the club room in search of the missing game piece. A mishap with a table leads to a sizable on each forehead, and the three reminisce on how Medaka has affected their lives as they clean. The Student Council are exhausted by the time they finish, but still have been unable to locate the missing king. Akune discovers that the king is missing from every shogi set in the room, and leads the Student Council to the prime suspect, Miri Natayama. The three confront Natayama on the roof, who all but outright confesses to the crime. After Zenkichi and Akune each say their piece to Natayama, Kikaijima tries to add to the conversation as well, though all she can contribute is trivia. Afterwards, each member of the Student Council arrives at the temporary office with a flower pot, prompting all three to start laughing.[31]
Thirteen Party Arc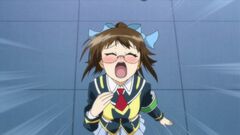 Kikaijima and Akune arrive together at the Door of Rejection, surprising Zenkichi. When Zenkichi tries to convince them to turn back, Kikaijima tells him she is only afraid of being left behind. She then passes through the Door of Rejection, shocking Zenkichi, Sanou Tsushima, and Unou Tsushima.[32] The Student Council comes to another door, which the Tsushima twins identify as an elevator. However, Kikaijima and the others follow Medaka, who chooses to forego the elevator in favor of the stairs.[33] As she and Medaka walk in front, she realizes that they have been walking in circles when Medaka points it out to her. She asks Kikaijima to use the same method she used when the two of them were in an amusement park maze. Kikaijima releases a loud shout into the maze, allowing Medaka to figure out their location with sonar. Kikaijima is upset when both Zenkichi and Akune complain to her, promising to tell Yakushima and Tanegashima when she gets back. When Shigusa Takachiho appears, Kikaijima can only watch in amazement as he effortlessly dodges attacks by Zenkichi and Akune, and approaches Medaka.[34]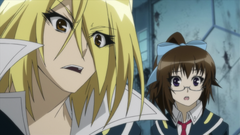 Kikaijima watches on as Takachiho confronts Medaka.[35][36] She is thrilled when she sees that Medaka is alright. She and the others run to Medaka's side when she is dropped by Takachiho's kick.[37] Like the rest of the Student Council, she is unable to react when Takachiho takes back his flash drive. She is surprised to see Medaka use Unzen's super balls.[38] She is shocked when Takachiho manages to dodge all of the super balls.[39] Kikaijima continues to watch Medaka's fight with Takachiho.[40] She is horrified when Takachiho breaks Medaka's arm.[41] She is stunned when she hears that Medaka has no reflexes, though thinks to herself that there is no other way to explain how Medaka can do the things she does.[42] She is surprised by Zenkichi's reaction when Medaka removes her shoes.[43] She and the others are amazed by Medaka's Kurokami Phantom.[44] After Medaka collapses, Kikaijima runs to her side. She is horrified when Takachiho rises to his feet.[45] Stunned that Takachiho has gotten back up, Kikaijima is yet more shocked when Medaka regains consciousness as well. The group makes to leave, but Takachiho demands that Medaka wait.[46] She stands back as Medaka prepares to fight Takachiho once more.[47] They are all three surprised when the two simply start punching one another.[48] Kikaijima is visibly unsettled when Takachiho starts laughing.[49] After Medaka defeats Takachiho, Kikaijima runs to her side, and begins patching her up with a first aid kit. The Student Council then head down to the next floor.[50]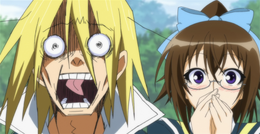 Kikaijima is surprised when the Student Council reaches the second floor, a large biotope, and is further surprised when Kei Munakata tells them he will not try to stop them.[51] She is shocked when he tries to cut Medaka's head off.[52] She is further shocked to hear that Munakata is on the nation's most wanted list, and is a serial killer of international reputation.[53] She looks concerned when Medaka declares she will fight Munakata.[54] She is further surprised when Medaka enters War God Mode to attack Maguro Kurokami.[55] She looks worried when Maguro decides Zenkichi will be the one to fight Munakata.[56] Kikaijima asks Akune if Zenkichi will be alright, and worries whether he will be alright against a serial killer.[57] Kikaijima listens on as Maguro explains Munakata's level of aptitude with weapons.[58] She is stunned when Munakata reveals a spiked staff.[59] Kikaijima is delighted when Zenkichi manages to knock Munakata down.[60] When Medaka declares that Zenkichi is the guy she likes, Kikaijima starts squealing.[61] When Munakata pulls out a rocket launcher, Kikaijima is shocked. After Zenkichi kicks it away, Kikaijima asks if Munakata is all out of weapons now.[62] When Zenkichi drops Munakata with a kick to the head, Kikaijima asks if now she can say Zenkichi won.[63] She is horrified when Zenkichi is impaled by Munakata.[64] Kikaijima is surprised to see Medaka drop to her knees.[65] As Munakata moves towards them, she prepares to fight. She is stopped by Maguro however, who tells her and Akune to take Medaka and leave. Kikaijima is shocked to hear that Maguro wrote up the draft for the current Flask Plan.[66] She is startled to see Zenkichi rise to his feet.[67] She watches on as Medaka repeats Zenkichi's name.[68] She is surprised at the strength of Zenkichi's stomp.[69] She stands by after Munakata is defeated.[70] Kikaijima is surprised at hearing Zenkichi's declaration that Munakata is not a killer.[71] Watching Zenkichi and Munakata clasp hands, Kikaijima smiles. She is appalled when she realizes that Maguro was unaware of Munakata's pacifism.[72]
The Student Council heads down to the third floor, a zoo. When Medaka insists that they go look at the animals, Kikaijima refuses, thoroughly unimpressed with every specimen present. She and Medaka begin fighting.[73][74] Kikaijima denies fighting with Medaka.[75] Searching through the Flask Plan archives, Kikaijima is asked by Medaka if she said anything. Kikaijima answers in the negative, and asks if Medaka is not hearing Zenkichi argue with the Tsushima twins. Kikaijima remarks that Zenkichi can get along with anyone, but wonders what has become of Maguro, who ran off after hearing about Youka Naze. Looking through a book, she wonders where the Flask Plan got all its money. She then asks Medaka if it is difficult having such an overly affectionate brother.[76]
Kikaijima watches on as Zenkichi and Akune argue.[77] Kikaijima is surprised by the arrival of the Loser Team. She thinks to herself that it is too early to think of members of the Thirteen Party as allies.[78] Kikaijima is startled when Zenkichi starts crying. Everyone is put out when Nabeshima suggests they use the elevator.[79] The Student Council and the Loser Team gather outside the elevator.[80] With the arrival of the Plus Six, Unzen orders the Student Council to take the stairs.[81] The Student Council run for the stairs.[82] The Student Council arrives at the twelfth floor. They are all surprised to see that the level appears to be an arcade. Kikaijima is shocked to see an unconscious Medaka on the ground, and runs to her side. She listens with the others to Medaka's story of how she escaped. After "Medaka" asks to borrow Zenkichi's jacket however, the Student Council realize that the person in front of them cannot be the exhibitionist Medaka.[83] Kikaijima demands to know why the Flask Plan is doing this to Medaka.[84] Kikaijima and the others are shocked when Mizou Yukuhashi admits to being uninterested in the Flask Plan, and is only participating to observe Oudo Miyakonojou. After listening to Yukuhashi, Kikaijima collapses due to the effects of Yukuhashi's knockout gas. However, Kikaijima rises to her feet, using the lung capacity she developed as a swimmer to hold her breath.[85]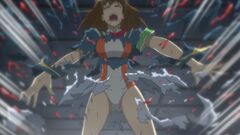 Kikaijima thinks of the time she has spent with Medaka, including their trip to an amusement park, and decides there is no way she is going to let the Flask Plan ruin the life of a fifteen-year-old girl. She stares down Yukuhashi, until a well-planned taunt provokes her to tell Yukuhashi to shut him, the force of her voice acting like a sound cannon. This proves to be a mistake however, as Kikaijima breathes in more of the knockout gas. Even so, she awakens herself by ripping off a nail. Yukuhashi asks Kikaijima why she is fighting so hard for Medaka, who was formerly her enemy; Kikaijima replies that for a friend, she will fight. She then uses her sound cannon to send shards of glass at Yukuhashi. Because she thought this strategy through however, Yukuhashi sees through it and deflects the projectiles. Kikaijima begins to tremble, desperate for air. When Yukuhashi tells Kikaijima that a person cannot be friends with someone standing on different levels from them though, Kikaijima loses her temper, and rips off four more nails. She states that because people treat Medaka as a special being, Medaka is always lonely. Kikaijima finishes be declaring that she will rescue Medaka, and then all of the Student Council will go to the amusement park together.[86] Kikaijima claims she has found the weak point in Yukuhashi's Reading Minds, and offers one chance for surrender. Kikaijima steels herself, and then takes in a deep breath. Unable to decide which option would be best, she uses her Hyper Soprano and Voice Canon simultaneously, and aims for the ceiling. Remembering Zenkichi's fight with Munakata, she aims for the light fixtures, bringing down a rain of glass upon herself. When Yukuhashi collapses, she reveals that she realized if Yukuhashi could feel her emotions, then her pain could be felt also. She states that with Yukuhashi's understanding of the pain of other, Yukuhashi must be the kindest person in the world. She then begs Yukuhashi to let the Student Council save Medaka. Kikaijima is shocked when Oudo appears.[87] She recognizes him immediately, and is horrified to hear that he has already finished brainwashing Medaka.[88]
Kikaijima refuses to belief that Medaka has been brainwashed, but is forced to the ground by Oudo's Abnormality. Immobilized, she cannot dodge Oudo's assault,[89] but she is saved by an awakened Zenkichi.[90] She finds herself unable to move once again when Zenkichi begins strangling her against his will. She is shocked when Maguro reveals that Oudo's Abnormality allows him to control minds. Zenkichi manages to rip his hands off of her. Kikaijima says nothing when Oudo asks the Student Council if any of them have ever wanted Medaka to change.[91] Kikaijima is shocked by the arrival of Medaka, now going by the moniker Medaka II. [92] She is horrified when Medaka II tells the Student Council that from now on, they will support the Flask Plan, and she will be joining the Thirteen Party.[93] Kikaijima and the others try and make her see reason; when they refuse to go along with her, she dismisses all three of them.[94] They are not disheartened however, and instead decide that they will go along with the wishes of the old Medaka.[95] Kikaijima and the others are driven to their knees when Medaka II use Oudo's Weighted Words on them.[96] When Zenkichi kicks Medaka II, Kikaijima is amazed that he can still move.[97] Kikaijima is distressed when Zenkichi takes a kick to the throat.[98] The pair watch on as Zenkichi manages to make a clean hit.[99] Kikaijima is shocked when Medaka II punches Zenkichi in the throat.[100] She is delighted when Medaka returns to her original personality.[101] Kikaijima listens on as Medaka declares her intent to rid the school of the Flask Plan.[102] She follows the others down to the thirteenth floor.[103][104] Kikaijima listens on as Oudo describes the merits of the Flask Plan.[105] Hearing Medaka describe the "nightmare" of a complete person she has met before, Kikaijima says nothing.[106] She is surprised when Oudo attacks Koga.[107] Kikaijima is disturbed to hear Oudo brush off Yukuhashi's collapse as no big loss.[108] Kikaijima looks on as Oudo tries to take Medaka's Abnormality.[109] She is surprised to see Oudo bow to Medaka.[110] Kikaijima talks to Yukuhashi after the fighting is over. She stands beside when they all gather in the elevator.[111] She is horrified to find the defeated Loser Team and Plus Six.[112]
Kumagawa Incident Arc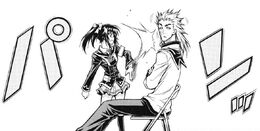 Kikaijima wonders at Misogi Kumagawa, wondering what kind of history he has with Medaka and Zenkichi.[113] While talking to Akune, Kumagawa gropes Kikaijima. She knocks his hand away, but is surprised to find Kumagawa has healed her injuries, and repaired her clothes. He asks her if her loved ones are safe. When she questions him about Yakushima and Tanegashima, he replies that he doesn't even know who she is, but that he will remember the names of those who are close to her, horrifying Kikaijima.[114] She stands by as Kumagawa addresses the group.[115] Kikaijima is surprised to see that Nabeshima is alright, but is a bit put out to hear she played dead while everyone else fought.[116] Kikaijima participates in the dismantling of the Flask Plan Labs.[117] Later, in the Student Council's office, she worries if Kumagawa will approach them today. Kikaijima asks what happened in middle school; Medaka promises to explain everything once Akune arrives. She is unfazed by the arrival of Akune with Hitomi Hitoyoshi.[118] Kikaijima is surprised to hear that Hitomi is a doctor. [119] She is amazed when Hitomi manages to alter Medaka's uniform. As Zenkichi complains about his mother, Kikaijima makes no reaction, despite living by herself.[120] Kikaijima arrives at the Ghost Babel with Akune and Medaka, where she finds Mukae Emukae attacking Maguro and Naze. She is embarrassed to see Maguro is nearly naked. After Emukae retreats, the Kurokami siblings and the Student Council sit down to discuss how to counter Kumagawa. Kikaijima questions whether the Minuses are really such a threat, when they have Medaka's The End. Maguro explains to her that if Medaka were to master a Minus skill, it would only become a burden to her, using Munakata's Abnormality as an example.[121][122] Kikaijima later joins with the rest of the Student Council, Naze, Koga, and Hitomi to discuss how they should handle the Minuses. Like everyone else, she is surprised to hear of the former Student Council president preceding Medaka, Kuudou Hinokage.[123] When Medaka and Naze return, Kikaijima has already forgotten about Hinokage. She is surprised by his sudden appearance. She fails Hinokage's examination.[124][125] Kikaijima slaps Hinokage after he accuses her friends of being weak.[126] She agrees to Hinokage's Devilize Training camp.[127]
One week later, at the end of the semester, Kikaijima is present for Medaka's speech. She is surprised by Kumagawa's sudden entrance.[128][129][130][131] She is horrified by Kumagawa, considering him beyond help.[132] Kikaijima is relieved when Medaka manages to turn the situation around.[133] After Medaka declares a Student Council battle with Kumagawa, the Student Council meet with their allies to decide what to do. Kikaijima argues with Hinokage that Medaka did the best she could do. She and Akune are surprised by Naze's and Medaka's back and forth.[134][135] After discussing their options, the group decides to throw the General Affairs Manager's Battle, and use the two weeks to complete the Devilize Training.[136][137] On July twenty-fifth, during the General Affairs Manager's Battle, Kikaijima and Akune take part in the Devilize Training with Hinokage and Maguro. They ask Medaka to cheer for Zenkichi in their stead.[138] In the midst of their training, the group are attacked by Shibuki Shibushi, Gagamaru Chougasaki, and Emukae.[139] Kikaijima and Akune plead with Hinokage not to sacrifice himself for their sakes.[140][141] After Hinokage's declaration that he will protect them, Shibushi seriously injures Kikaijima and the others.[142][143] The other members from the Student Council arrive in the parking lot, and treat Kikaijima and the others at Naze's lab before sending them to the hospital.[144] After the Treasurer's Battle, both Kikaijima and Akune are released from the hospital. Maguro sends them on a mission to help prepare for the President's Battle.[145] On August twenty-second, Kikaijima and Akune arrive on the rooftop Medaka and Kumagawa are fighting on, explaining they are the one's responsible for the crowd cheering for Medaka, having gathered the group on Maguro's orders.[146] With Medaka's victory declared, Kikaijima and the others run to congratulate her.[147] She is stunned when Medaka offers Kumagawa the position of vice-president.[148] With Kumagawa, the Student Council is completed.[149]
Kurokami Medaka's Successor Arc
Jet Black Bride Arc
After the election, Kikaijima invites Medaka to join the Swimming Club, though Medaka turns her down.[150]
Unknown Shiranui Arc
Sometime after the school festival, Kikaijima and Medaka attend a Kiyoterae concert. Afterwards, the pair meet up with the group in their dressing room.[151] As Medaka questions why her singing lacks passion, Kikaijima also wonders why Medaka's ability in the arts is lacking, since she usually influences people around her all the time.[152] The Swimming Club are approached by Medaka asking about Shiranui; none of them remember her.[153] As Zenkichi hovers near death, Kikaijima's voice is one of the many that gives him encouragement.[154] She is also one of the people he remembers before preparing to fight Iihiko Shishime.[155] At the end of the academic year, Kikaijima is among the students present at the Hakoniwa Academy graduation ceremony.[156] She applauds Kumagawa at the conclusion of his speech.[157] She joins her friends for a group photo after the ceremony ends.[158]
Bouquet Toss To The Future Arc
Kikaijima (in her Student Council Uniform) and members of several generations of the Student Council confront Medaka as part of the 100 Flowers Run in the Student Council office. She tells Medaka that "Youka Naze" and "Kujira Kurokami" are two different people, and that Kumagawa is participating, but wanted to fight her alone.[159] Her message to Medaka is the promise they will be friends forever.[160] Come April of the new school year, Kikaijima is present at the entrance ceremony for Zenkichi's speech and the introduction of the new chair. She is delighted to see the academy's new chairwoman is none other than Medaka.[161]
Epilogue Arc
Ten years later, Kikaijima reunites with her friends on the tenth anniversary of Ajimu's disappearance. Changing in the Student Council office with the other women, she is startled by the sudden arrival of Zenkichi and Kamome Tsurubami.[162] As Akune talks with the others, Kikaijima approaches him, stating that her infant child Mogami will play with his toys when he is older. She hands her son to Zenkichi, expressing her desire for Mogami to grow up to have a strong will like Zenkichi. She explains his name means "best", to signify that he is her most important treasure. Though her surname is no longer Kikaijima, she states she is still called as such at her workplace. She discuses the other members of the Swimming Club and Nabeshima, noting that Nabeshima was the only member of their generation to achieve international status.[163] At some point, Kikaijima takes Mogami back from Zenkichi.[164] She falls silent as the others discuss the missing Kumagawa.[165] A flustered Naze holds Mogami as Kikaijima watches.[166]
Abilities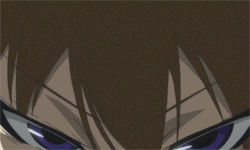 Loud Voice (大声, Ōgoe): Kikaijima is a Special and one of the school's many scholarship students. She is considered the freshman ace of the Swimming Club, even more talented than Tanegashima. Because of her training in water, she has an incredible lung capacity, allowing her to hold her breath for a month if she so chooses.
Shout (怒鳴り, Donari) - Voice Cannon (声の大砲, Boisu Kyanon): Kikaijima focuses her voice into a straight line, not making any noise or vibration outside of that line. The cannon has enough force to send an opponent flying.
Yell (叫び, Sakebi) - Hyper Soprano (超高音, Haipā Sopurano): Kikaijima's voice reaches such a high frequency that she is able to shatter glass and even direct it towards a target.
Bookkeeping Skills: Kikaijima is a first class book keeper.
Differences Between Anime and Manga
In the anime, Kizashi Yuubaru does not approach the Student Council looking for models until after the swim meet. Consequently, Kikaijima is included as one of the possible models.[167]
Trivia
Kikaijima's epithet, Swimming Miser, in kanji is 泳ぐ守銭奴 (Oyogu Shusendo).
Kikaijima was voted the twelfth most popular character in the series in the third popularity poll with 286 votes.
Kikaijima was voted the ninth most popular character in the series in the second popularity poll with 462 votes.
Kikaijima was voted the seventh most popular character in the series in the first popularity poll with 296 votes.
Quotes
(To Medaka Kurokami) "Medaka is stupid!! You don't think about others…you're always fighting…and cause trouble for me! You get fired up about fighting but you never play with me…it's because of people like you that wars never end! Hey listen!!"[168]
References
Community content is available under
CC-BY-SA
unless otherwise noted.